Appointments Training
CCC IBC 2017 Community Program
Join California Women Lead and
State Assemblywoman Catharine Baker
This had to be cancelled, but will be rescheduled.
Co-sponsored by CCC IBC and Junior League East Bay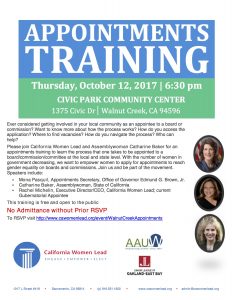 Spring 2017 news from Contra Costa County StartSmart facilitator, Elena Noble:
During the month of March 2017, Start Smart Wage Negotiation Workshops were conducted for 64 Diablo Valley College students. Classes were offered at both Pleasant Hill and San Ramon campuses. Based on the exit surveys, the students expressed gratitude for information on the Gender Gap and Equal Pay. We want to thank Catherine Franco, Melissa Jacobsen and Bridgette Schaffer of DVC, who helped coordinate each event.
Appreciation and thanks to the nine branches of AAUW Interbranch Council who purchased the three-year license for the Contra Costa College District. (Please note that Los Medanos and Contra Costa College were also offered the free classes, but did not respond to our many calls and emails.)
April 4th is Equal Pay Day for 2017. This means a women, doing the same job as a male colleague will finally catch up with the salary he made ending Dec. 31, 2016.
The key to Wage Negotiation is, "Know Your Value and ASK for what you are Worth."
---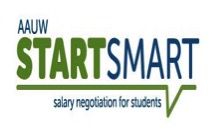 Fall 2016 news from Contra Costa County StartSmart facilitator, Elena Noble:
There is good news this fall in AAUW's effort to offer Wage Negotiation Classes for Equal Pay. Since taking over the former WAGE Project, AAUW has redesigned and trained members five Contra Costa County Interbranch Council members to facilitate classes  at Diablo Valley College, Cal State Stanislaus, Chico State College, and The University of the Pacific.
In late September, your StartSmart Team met and began discussing plans to offer future AAUW Workshops this spring.  Members include Elaine Groen, (Concord branch), Marie Bonilla, Diane Bell-Rettger, Sara Lautenbach, Jill West and Marjorie Singler, (Orinda-Moraga-Lafayette branch).
The drive this year for Equal Pay, a raise in Minimum Wage, and passage of the Fair Pay Act, has been a big part of the current Political Lexicon. Using Social Media, National AAUW has started posting StartSmart Workshops on Facebook and Twitter. And Presidential candidate Hillary Clinton has made it a major part of her platform, calling it,
"The Smart Card!"
Students expressing appreciation that our organization makes this information available to them commented:
"Wonderful, much needed information. I would not have thought to negotiate."
And:
"The Wage Gap is real, thank you for helping me realize I can do something about it."
If you are interested in sitting in on a StartSmart Class, or in becoming a facilitator, please contact me at:  Enoble4@astound.net
Next facilitator meeting:  November 16, 2016, 10 a.m.
For background on $tart $mart and the IBC's participation in this project, read AAUW Facilitator Elena Noble's November 17, 2015 memo.
 AAUW Leadership Training
The 2017 Leadership Training is scheduled for Saturday, April 1, at Cal State East Bay, Concord Campus.  Register on the AAUW CA website. Advanced registration deadline is March 25. Cost is $25, including lunch. Late or at-the-door registrants are welcome, but the price will be the same the participants must bring their own bag lunch.
The 2016 Leadership Training was held on
Saturday, May 21, 2016
Cal State East Bay, Concord Campus
4700 Ygnacio Valley Rd., Concord
SEE LEADERSHIP TRAINING PAGE for materials shared at the training.
IBC 2016 Community Program:
The Contra Costa County IBC typically holds a community program every other year.  Our most recent such program:
"The Hunting Ground" film was screened followed by a discussion about sexual assault on college campuses on Thursday, March 17, 2016 at Diablo Valley College, Pleasant Hill.
Upcoming Branch Programs/Events are posted on the Home page.