For more information about the Contra Costa County Interbranch Council (CCC IBC) and the work of the AAUW branches that make up its membership, visit our About CCC IBC page and IBC Programs page.
Support local SCHOLARSHIPS with Sneaker Drive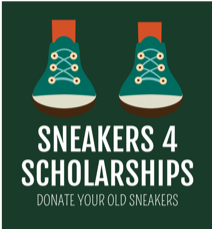 The American Association of University Women (AAUW-OML) is sponsoring a sneaker drive to raise money for their local high school (Miramonte, Campolindo, Acalanes) and Saint Mary's College High Potential Program scholarships.  These scholarships are based on community engagement and leadership.  Drop-off containers for your old, used, out-of-date, or new sneakers are located at Moraga Hardware, Lafayette Veterans Memorial Center, and the Rossmoor gym. With your help, we can keep sneakers out of landfills, reduce toxic chemicals in our air and soil, and raise money to support our local scholarships. For more info call (925) 963-4523.
Print Flyer here.
********************************************************************************
Local AAUW Events on November Elections:
Local AAUW branches have invited the League of Women Voters to present "Examining the November 2022 California Ballot Initiatives" on the following days/times. In addition to a Pros & Cons session, local elections may also be covered. Please use the links below to RSVP or register for the local event.
AAUW Clayton
Monday, October 10 – 7 pm  In-person and on Zoom. Please see this flyer for more info.
AAUW Orinda Moraga Lafayette
Tuesday, October 11 – 7 pm Please see OML website to register for Zoom.
AAUW Danville Alamo Walnut Creek
Thursday, October 20 – 6 pm In-person, please see DAW website to RSVP.
AAUW West Contra Costa & AAUW Berkeley
Saturday, October 15 – more info coming soon.
******************************************************

The Concord Crawl supports Todos Santos Downtown Businesses and local wineries! Tickets on sale now. Early Bird Special ends April 30, 2022.
If you are a Concord Artist and would like to display at our event. Please fill out this FORM.
If you are a local winery, brewery, or restaurant please contact us about participating.
To visit AAUW Concord, CLICK HERE.
March 19, 2022 –
There is still room for middle school girls to register for the  STEM Conference for middle school girls at Saint Mary's College.  At this point we are planning on holding the conference in person on campus.  All girls who are in 6th, 7th or 8th grade can attend. Each girl will attend three workshops out of the total of 16 on STEM subjects.   For full information and to register, visit: https://oml-ca.aauw.net/stem-conference/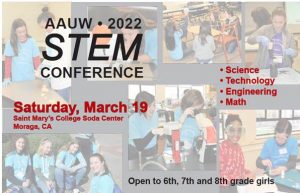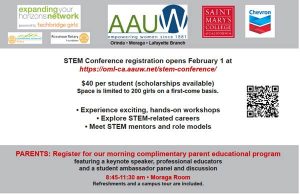 February 2022 –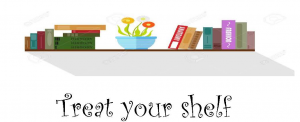 Orinda-Moraga-Lafayette Branch Fundraiser
In the month of February, OML Scholarship will be holding a book fair with Orinda Books to raise money for our scholarships. At the bookstore, our AAUW table will feature a variety of books for all ages and highlight our AAUW OML community projects. Many of the books will be newly released, be of different of genres and recommended by some of our AAUW members. You will be able to purchase these books on line at www.orindabooks.com, by phone Monday – Saturday between 10 – 3 at 925-254-7606, by email at pat@orindabooks.com , or in the store. You can pay by credit card, check or gift card. A list of the featured books will be available before February. We hope you will find something of interest, something to enjoy, or something new to learn about, and add to your bookshelf!
Visit https://oml-ca.aauw.net/files/2021/12/Scholarships-book-fair-2022pdf for a complete book list with synopses.
September 2021 –
New Public Policy Committee formed at the IBC level to harness the combined strength of our IBC branches to make Public Policy initiatives maximally efficient and effective and to build local branch capacity to initiate, educate and advocate for Public Policy in support of national AAUW and AAUW-CA priorities.
Tech Trek 2022 is currently being planned – stay tuned for more information. Click here for information from Camp Sonoma.
***************************************************************
CCC IBC 2017 Community Program
LEARN HOW TO GET INVOLVED IN YOUR LOCAL COMMUNITY
January 23, Walnut Creek Library.

Ever considered getting involved in your local community as an appointee to a board or commission?   Want to know more about how the process works? How do you navigate the process and who can help?  This is your opportunity!!!
Join California Women Lead and State Assemblywoman Catharine Baker  for an appointments training.   You will learn the process that one should take to be appointed to a board/commission/committee at the local and state level.  With the number of women in government decreasing, we want to empower women to apply for appointments to reach gender equality on boards and commissions.  There is no admittance without prior RSVP.  To RSVP visit http://www.cawomenlead.org/event/WalnutCreekAppointments   If you have any questions, contact California Women Lead at (916) 551-1920.
This training is free and open to the public.  The event is sponsored by the American Association of University Women (AAUW) in Contra Costa County and Junior League East Bay.  Women are underrepresented in government.   Learn how to get involved at the local and state level to start turning this around.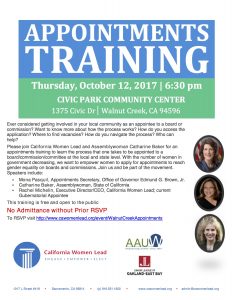 AAUW Clayton Program
Speaking for Ourselves, A Panel of Your Muslim Neighbors
Sunday, Oct. 22, 2107, 2 – 4 pm
Clayton Community Library, Hoyer Hall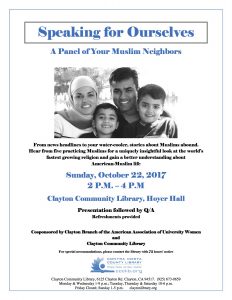 AAUW Danville-Alamo-Walnut Creek Program
WHAT YOU NEED TO KNOW FOR UPDATING YOUR WILLS AND TRUSTS
When:              Thursday, October 26, 2017, 6:00PM-8:00PM
Where:            Danville Town Meeting Hall – 201 Front Street – Danville, CA
Sponsored by Danville-Alamo-Walnut Creek AAUW for the benefit of its members and the general public.
There have been numerous changes to estate laws over the years. Sarah Nix, an AAUW member and Estate Attorney for Gagen and McCoy will review these changes and the importance of having a will or trust to protect yourself and to make sure your wishes are followed.  Experts recommend these essential documents be updated every few years. Sarah will explain what is important and why.
There is no cost to attend, however reservations are required. To register, simply send an email with your name and the number of people attending to:  DAW-AAUW@gmail.com