For more information about the Contra Costa County Interbranch Council (CCC IBC) and the work of the AAUW branches that make up its membership, visit our About CCC IBC page and IBC Programs page.
UPCOMING LOCAL AAUW EVENTS:
CCC IBC 2017 Community Program
LEARN HOW TO GET INVOLVED IN YOUR LOCAL COMMUNITY
January 23, Walnut Creek Library.

Ever considered getting involved in your local community as an appointee to a board or commission?   Want to know more about how the process works? How do you navigate the process and who can help?  This is your opportunity!!!
Join California Women Lead and State Assemblywoman Catharine Baker  for an appointments training.   You will learn the process that one should take to be appointed to a board/commission/committee at the local and state level.  With the number of women in government decreasing, we want to empower women to apply for appointments to reach gender equality on boards and commissions.  There is no admittance without prior RSVP.  To RSVP visit http://www.cawomenlead.org/event/WalnutCreekAppointments   If you have any questions, contact California Women Lead at (916) 551-1920.
This training is free and open to the public.  The event is sponsored by the American Association of University Women (AAUW) in Contra Costa County and Junior League East Bay.  Women are underrepresented in government.   Learn how to get involved at the local and state level to start turning this around.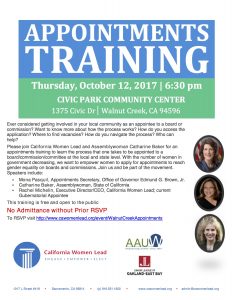 AAUW Clayton Program
Speaking for Ourselves, A Panel of Your Muslim Neighbors
Sunday, Oct. 22, 2107, 2 – 4 pm
Clayton Community Library, Hoyer Hall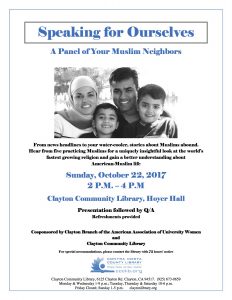 AAUW Danville-Alamo-Walnut Creek Program
WHAT YOU NEED TO KNOW FOR UPDATING YOUR WILLS AND TRUSTS
When:              Thursday, October 26, 2017, 6:00PM-8:00PM
Where:            Danville Town Meeting Hall – 201 Front Street – Danville, CA
Sponsored by Danville-Alamo-Walnut Creek AAUW for the benefit of its members and the general public.
There have been numerous changes to estate laws over the years. Sarah Nix, an AAUW member and Estate Attorney for Gagen and McCoy will review these changes and the importance of having a will or trust to protect yourself and to make sure your wishes are followed.  Experts recommend these essential documents be updated every few years. Sarah will explain what is important and why.
There is no cost to attend, however reservations are required. To register, simply send an email with your name and the number of people attending to:  DAW-AAUW@gmail.com